Get to know us
Home Care Specialists is your family owned and operated home medical equipment and supplies provider. Since 1979, we have had the privilege of helping our patients enhance their lives and find the right products for themselves and their loved ones. We focus on providing high-quality products and customer service that are worth talking about!
We are accredited by The Board Of Certification (BOC). Get started by learning more about our mission, history and reading some helpful FAQs. If you have any questions or need assistance, don't hesitate to reach out to us.
Our mission is to continue providing access to much-needed home medical equipment for all patients. Home Care Specialists works hard to partner with our patients and community clinicians to say informed and provide the necessary help required for billing and insurance. HCS strongly believes that taking care of patients in their homes is the best and most cost-efficient model and we will continue to fight to guarantee patient access to equipment and supplies.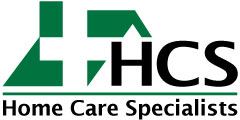 Longevity in the healthcare industry
Home Care Specialists has been a family-owned and operated business since 1979. We are one of the longest standing regional companies in Massachusetts, New Hampshire, and Maine.
Industry Professionals
Our family brings decades of clinical experience in respiratory therapy, nursing, and physical therapy to the company; and management is compromised of licensed Respiratory Therapists and Sleep Technicians. We keep the business clinically focused on the patients- so the the patients can get answers to their questions and products matched to their specific needs, when they need them.
Patient Oriented Dedicated Staff (PODS)
Our company covers the spectrum as home care specialists, oxygen specialists, sleep apnea specialists, and hospice specialists. We are clinical experts in the field. We are reimbursement experts. We are audit and coverage experts. We provide education to referral clients as well as keep patients informed about new products or services.Our staff is organized into specialized (PODS) to best serve our customers' needs.
Proactive and Well-Informed
Our staff remains involved with related associations on state and federal levels. We are proactively involved in outreach committees with Medicare and Medicaid and provide training that highlights compliance.
Consistent and reliable service through the largest service model in the region
Home Care Specialists continues to offer the biggest service model for products covered through insurance for sleep apnea, oxygen, hospice and nursing services and medical equipment.
What you need, when you need it
Home Care Specialists is a one-stop-shop company with services and equipment available when and where you need them.
Value-based Company
Longevity. Integrity. Consistent performance. High-quality standards. Centralized controls. Conservative processes. Outcome-drive focus. Valued experience and expertise.